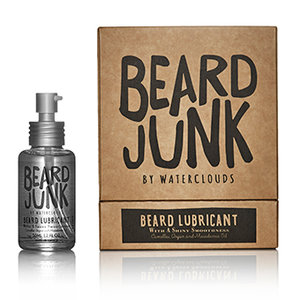 Beard Lubricant
A Beard Lubricant that rehydrates the beard and facial skin and effectively relieves itchy beard. Contains a blend of three different oils, Camellia Oil, Macadamian Nut Oil and even a drizzle of renowned Argan Oil. This blend provides a feeling of softness and rehydration. Application: Apply after washing beard. Apply a few drops to the palm of one hand, then rub your palms together and massage the product into the beard.

Beard Junk by Waterclouds.
Beard Junk is a range of beard products developed by Swedish hair care brand Waterclouds. All products in the Beard Junk range are made in Sweden and have been specially developed for beard care and beard styling. Backed by the experience and knowledge acquired from the development of beauty products, we have produced a beard care range with specially selected ingredients for each individual product and purpose.

Beard Junk a beardbanging product.